By having Chet in to speak at your event, your attendees will be: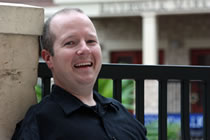 Uplifted – Chet's undying passion for a happy, purpose filled life will give your event a brightened spirit, and will provide those who attend a reason to "go home happy."
Encouraged – As a motivational speaker, Chet's desire is to encourage his listeners to keep on living despite the challenges they have been given.  Chet knows how easily people can get bogged down in day-to-day living, and his bright, happy spirit enourages all who listen.
Challenged – Chet believes that while he does not have all the answers, he can challenge others to live their lives with a positive attitude.  He says that if he can live a happy life with no arms, then you can, too!