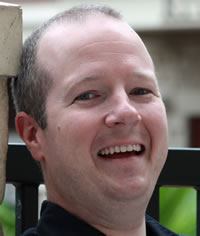 On January 5th, 1980, Chet McDoniel was born into this life with no arms and shortened legs. Though dealt a vicious blow in the delivery room, Chet's parents decided to raise him as they would any other child. They instilled a positive attitude in Chet that carries with him through to this day.
Throughout Chet's life, he has faced many struggles. Chet remains positive throughout these obstacles, and believes that he has the secret to enjoying life to its fullest. Chet delivers keynote speeches on choosing to be happy, the incredible value of life, and how to overcome insurmountable odds.
Chet graduated magna cum laude from the University of North Texas in 2002 with a Bachelor of Arts degree majoring in Radio, Television and Film production. As well as leading worship and speaking, Chet owns his own travel agency, Off to Neverland Travel – Disney Vacations. Chet, his wife, Joni, and daughters, Hannah, Olivia, and Ellie live in the Dallas/Fort Worth, TX area.
Chet McDoniel has motivated tens of thousands and is a one of a kind keynote speaker. He will excite and entertain attendees at your event by using his excellent story-telling ability to tell about his upbringing. Through many stories, you will get to know Chet and his ability to live life to its fullest. Then, after you get to know him, Chet will tell you his secret to being happy.
Another option available when bringing Chet in for a special evening is to have his father, Dr. Jim McDoniel join him.  The two present a special keynote entitled, "All He Needs for Heaven."  The presentation is based on a book that Jim McDoniel wrote about Chet.  Jim brings years of preaching ministry and first-hand experience regarding the earliest days of Chet's life.  Be sure to ask about this presentation when you inquire.
Having Chet and/or Jim at your event will guarantee that your attendees will be inspired and uplifted when they leave. Chet's goal in speaking is to help people to understand that happiness is a choice, and that living a happy life is the only way to live!